Pastor Daniels Trinity 11 Sermon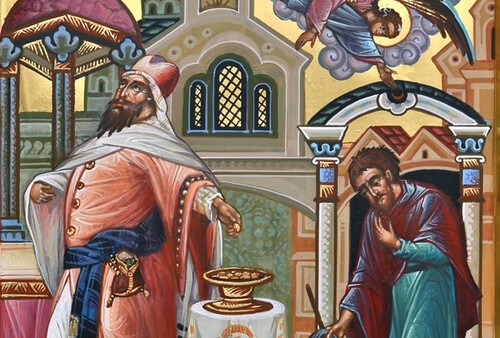 Trinity 11
Luke 18:9-14
God, be merciful to me, a sinner!
Over the last year I have noticed one thing about Texans, they have a lot of pride. Texans are never bashful about telling you how their home state is better than yours. They also aren't afraid to tell you how their barbecue is better, their tacos are better, and every other food that you can think of is better in Texas. Texans constantly compare themselves to other states and how they are tougher than other states, more conservative, and have more guns than other states. They are constantly comparing themselves to others and how they measure up against the rest of the states even though a texan undoubtably will tell you that they're in a league of their own because they were their own country or some other amazing reason.
But don't worry this isn't just for texans this is true for Lutherans as well. Lutherans just like texans love to show their lutheran pride pasting Luther roses wherever they can. Bragging to one another about how lutheran they are and how excited they are about the 500th anniversary of the Reformation. We love to compare ourselves to others how we are so much more orthodox, more confessional, more liturgical, more Lutheran. Lutherans are the Texas of denominations. We're better in so many different ways and we aren't afraid to tell you about it.
We all love to brag about ourselves and our own accomplishments and our own perceived superiorities. We all love to think of ourselves as better then someone else. After all when it comes time to pick teams no one wants to be picked last. The most tangible way that we judge ourselves is to compare with others. It goes all the way back to Cain and Abel. We can't measure up to the perfection required by the law and so we console ourselves by pointing out all of the other people that we are better than.
I'm better than you because I have the full collection of burgundy CPH books on my shelf, I'm better than you because I cross myself at the appropriate times in the service, I'm better than you because (fill in the blank). At times we even brag about our own humility! Our sinful Adam constantly tempts us to look down on other people as we exalt ourselves, and our accomplishments. We love to take pride in our own works and the devil wants nothing more than to place our focus and our trust in our own works rather than the work of Christ.
Our sinful nature constantly wants us to think more highly of ourselves than we ought. We ignore our many sins and shortcomings and focus on the failures and sins of others and how we are better than they are. Just like breathing we don't even have to think about it, it just comes as second nature to us as we are filled with sinful pride and contempt for our neighbor. Yet when death draws near, when we are afraid for our lives, when our phone tells us that there is a tornado warning in our area, when we are concerned about the flood waters, when we or our loved one gets bad test results it is not our works and superiority that give us comfort.
We can only truly find comfort in Christ. No matter how good we think we are no matter how much better we think we are when trial and tribulation are upon us, when the flood waters are rising, when the winds pick up, when the test results come in our only prayer is "God, be merciful to me, a sinner!" There is no comfort to be found in our own works and accolades, only failure and emptiness. Christ is our comfort and refuge in our time of need. He is the only one capable of saving us, he is the only one who provides for us and loves us without regard for our worthiness. He cares and provides for us only out of his mercy and goodness.
In spite of our sin, shame, and pride God continues to care for us and protect us in our time of need. Just as we pray in our collect God is "always more ready to hear than we to pray and to give more than we either desire or deserve." God does not compare us to one another he simply sees us for the sinners that we are knowing that we all deserve death and hell. Yet, in his infinite love and mercy he sent his Son to die on the cross for us so that he would die the death that we deserve and we would be made perfect. He took away all our sin and shame and gave us his righteousness. When we look at our fellow brothers and sisters we shouldn't see someone who we are better than or worse than, we see someone else who has been justified by the blood of the lamb. We see someone else who Jesus died on the cross for.
We cannot fool ourselves to think that we are perfect or worthy on our own no matter if we are a Texan, Lutheran, or Lutheran Texan; we are sinners in need of forgiveness. Our lutheranness and our texanness is not what saves us. What saves us is the love and mercy of God that he continues to forgive our sins. As Paul wrote to the Ephesians, "But God, being rich in mercy, because of the great love with which he loved us, even when we were dead in our trespasses, made us alive together with Christ - by grace you have been saved- and raised us up with him and seated us with him in the heavenly places in Christ Jesus, so that in the coming ages he might show the immeasurable riches of his grace in kindness toward us in Christ Jesus. For by grace you have been saved through faith. And this is not of your own doing; it is the gift of God, not a result of works, so that no one may boast." It sounds to good to be true and yet that is it, we can only rely on his grace and mercy.
We cry out like the tax collector "God, be merciful to me, a sinner!" That is the life of a Christian constantly crying out to God begging for mercy. We are incapable of doing anything for ourselves. Even the good works that we do are prepared for us by God. He simply causes us to do them as a result of the love and mercy that he shows to us daily. We don't do them to stand and take pride in them for all to see, we do them as a response to the love and mercy that God has shown to us.
As we continually cry out "God, be merciful to me, a sinner!" God continues to answer our plea with the words of absolution. He continues to give us the comfort and assurance that our sins are forgiven as we hear the gospel proclaimed and the absolution pronounced. He constantly declares to our troubled conscience be at peace your sins are forgiven. He continues to distribute that forgiveness in the body and blood of Jesus Christ. As humble unworthy sinners we approach the altar and receive the body and blood of Christ Jesus for the forgiveness of our sins, and we are exalted above the devil, the world, and our sinful flesh.
Rather than getting what we deserve God who is far greater than us is not prideful and haughty but he is merciful and loving. When his children cry out in need he hears their pleas for mercy and he continues to grant it through his church. He continues to lower himself to us in order that we may be exalted in the forgiveness of sins.
Even though on our own we deserve nothing but hell and damnation God continues to forgive and love us. We have only earned destruction for ourselves and yet God shows us mercy. He continues to forgive our sins and give us salvation that is won for us by his Son. As we pray "God, be merciful to me, a sinner!" he continually gives us his undeserved love and mercy. Our only response is to sing his praises.
Oh, how great is Your compassion, Faithful Father, God of grace, That with all our fallen race In our depth of degradation You had mercy so that we Might be saved eternally!
LSB 559
The peace of God…