A New Year Habit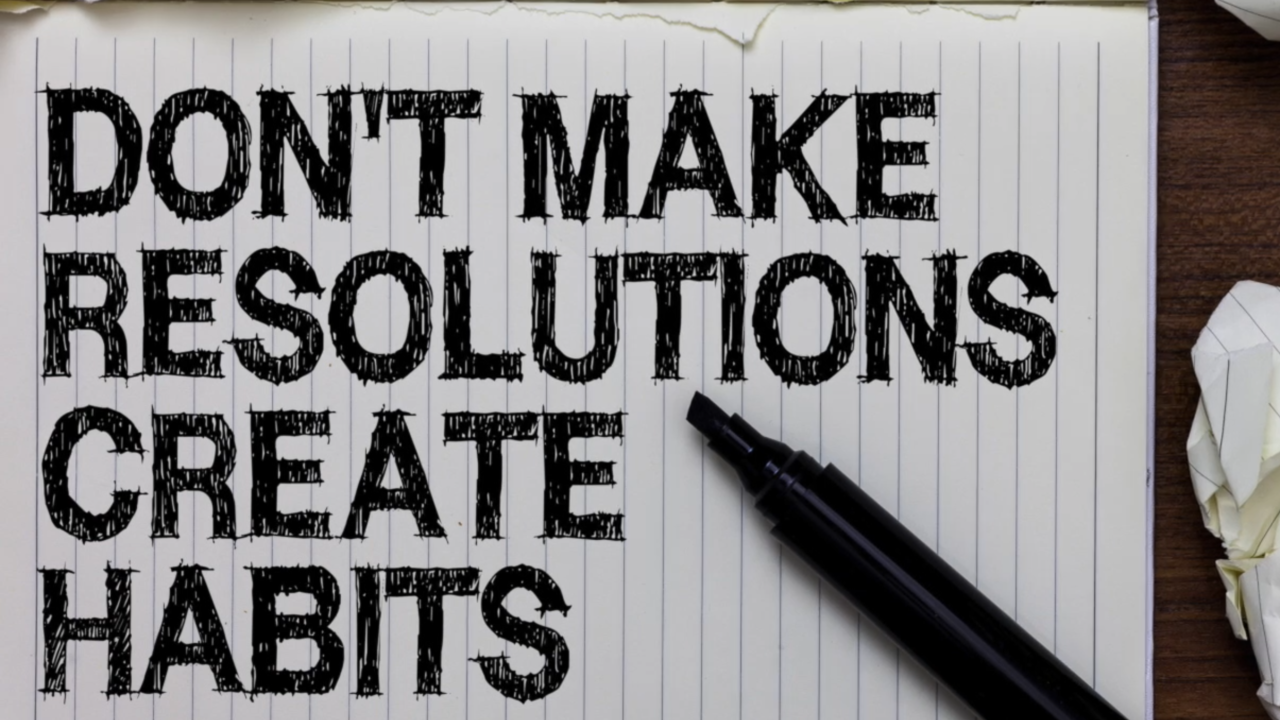 Today we begin a New Calendar Year. Today we begin anew. Today it's out with the old and in with the new. We have new goals. We have new dreams. We have new ways we desire to live. We have new resolutions, those things that we are determined to accomplish this year. We will drop 45 lbs by Christmas. We will stop smoking. We will stop drinking. We will replace the double bacon cheeseburgers with cob salads. We begin the year resolved to, at least in our own mind, become better people.
That's what resolutions are about right? We want to be better than we are now. We want to be smarter, richer, healthier, and overall just better at everything in this life. We want a better home life, better work environment, and better mental health. We believe that we can be better, that life can be more. But, how do those resolutions go? How does it go with making ourselves better? Do we do it? Are we satisfied by the end of the year with how we've been? No. Most of us say that the past year was a wash, and that this new coming year will bring with it our betterment. Therein lies the issue. We believe that we can be better. We believe that it is up to us to be greater.
We will never be greater or better than Jesus declares us to be. In the waters of Holy Baptism, Jesus declares us completely righteous and holy. We will never be holier than we were at the moment of our baptism. We are fully united with Christ, and we are destined for eternity because of the grace and mercy of Jesus. Think about this. Rather than seeing the new year as another time to make ourselves better, let us see it as another year to remind ourselves of this reality, "I Am Baptized." This is what we repeat the whole year long. I Am Baptized. This is who I am. In myself, I will never be better, but will adopt new vices each year, or at least come up with new names for the old ones. However, I am not in myself, and do not live according to myself. No. I am in Christ, and therefore I am a child of paradise. It is no longer I who live but Christ who lives within me. This year, may the Holy Spirit resolve us to confess and find comfort in our baptismal grace, the reality that we are perfect in our Father's eyes according to the sacrificial love of our Savior Jesus the Christ. May this keep us every day in joy and gladness, knowing that we are destined for paradise forever because Jesus has claimed us body and soul.
Peace be with you. May the devil be silenced, the world be hushed, and the Old Adam be drowned anew so that you hear only the peaceful voice of your Savior Jesus who says, "I forgive you. I love you. I claim you as My own forever," Amen.
Jesus' Sheepdog